Submitted by jon.ralston on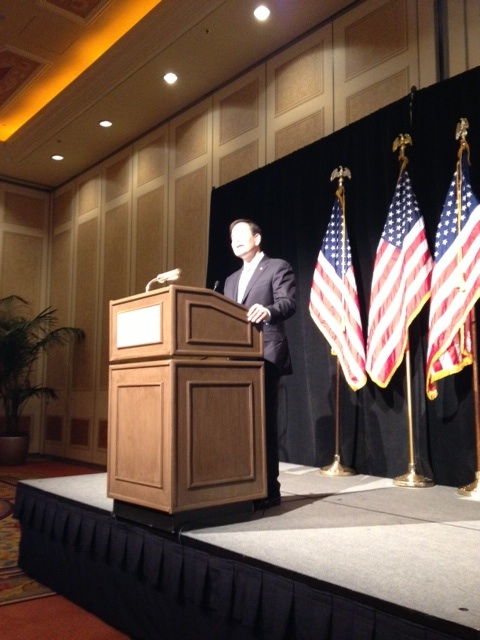 Florida Sen. Marco Rubio on Saturday raised the specter of "radical Islam" and homegrown terrorism in the wake of the Boston attacks, but repeatedly warned against "jumping to conclusions" because "we don't know why they did what they did."
Calling the Tsarnaev brothers "killers" (not "alleged" ones) and despite repeatedly urging caution in determining their motives, Rubio, in Las Vegas, repeatedly alluded to homegrown terrorists radicalized by foreign groups.
"One of the things that potentially is emerging is that the new face of radical Islam's terrorism in the United States and the world is the threat that we face not just from organizations abroad," he said at The Venetian on Saturday morning. "It's the homegrown element…individuals living in the United States being actively recruited online and radicalized to make attacks. Again, I don't know if that's' the case in Boston."
Rubio, in Southern Nevada to attend the Republican Jewish Coalition meeting and have a fundraiser at Red Rock, held a 30-minute news conference at the Strip resort to talk about the Gang of Eight's immigration bill. The senator answered every question in English and Spanish at a newser where half of the media were Spanish-languages reporters. (He later gave Univision an exclusive sit-down – who says he's not as savvy as they come?)
When asked about those such as Sen. Chuck Grassley already tying the attacks to immigration, Rubio replied that people should "reserve judgment, What I mean by reserve judgment is that we just don't know who these people were, why they reached the point they did, why they did what that did. We just don't know. If there are ways to learn (from Boston or other incidents), we should apply those. By the same token, I would remind everyone that what we know for sure is that these two killers entered the United States through the existing, legal immigration system."
I'm sure he meant "suspects."
Rubio declined to wade into the debate over whether suspect Dzhokzar Tsarnaev should have been read his Miranda rights or treated as an enemy combatant, as some of his colleagues have said. "That's part of a broader debate that we have to have," the Florida senator and 2016 presidential possibility said before repeating his point about homegrown terrorists being an emerging problem. "The massacre in Boston is a potential example of that."
Standing on the same site where his uncle was a room-service waiter decades earlier – at the Sands before it was razed to make way for The Venetian – Rubio generally repeated familiar talking points about the Gang of Eight's bill and his views on the issue.
"I see both sides of the argument," said Rubio, who spent some of his youth in Las Vegas with his cousin, state Senate Majority Leader Mo Denis. "I see the negative impact of illegal immigration. I also see the human face of it. Growing up here reinforced that."
Rubio repeatedly emphasized the issue is a personal one to him, having lived in "majority/minority" communities such as Las Vegas and Miami. And he acknowledge and embraced the duality of immigration, saying," We need a realistic solution to this problem in a compassionate way. But by the same token, we have to encourage people to immigrate here legally."
Rubio also reiterated that the bill is a starting point and that he wants "an open and sincere process….I want to be associated with a process that fixes this once and for all. On the other hand, people will present amendments designed to scuttle the bill. Some will be in good faith. We welcome those."
Asked about Nevada Sen. Dean Heller, Rubio said he had not talked to the state's junior senator about the bill. But he added that Heller "has expressed willingness and openness. I have found him to very open-minded and very professional, and he really understands the issue."
(Resisting temptation to say this is because he has been on so many sides of it.)
Rubio gave similar answers about Heller when local DREAMer Astrid Silva asked him in a fortuitous hallway meeting. She later tried to attend the newser but was asked to leave by Rubio's press secretary.
Rubio said opponents of immigration reform "want to have it both ways" by saying those coming here want to "take jobs from Americans and that they come here for welfare. Which is it?"
In a brief chat after the presser, I asked Rubio about the word "amnesty" being used by foes, especially on the right, to try to kill his bill.
"Amnesty means the forgiveness of things," he replied. "Amnesty means there's no consequences for doing something. There's a consequence for violating the immigration laws in our bill. You pay a pretty significant fine; you have to wait a significant amount of time. We're not going to round up 11 million people and deport them. They work for cash, they have kids who are citizens, they access state-level benefits. Right now, it's de facto amnesty and it's really bad for the economy."
Rubio said he challenges opponents of the bill "to come up with an alternative. What's their alternative? To leave things the way that they are? To round up 11 million people and send them back to the country of their birth. Then they should propose that."
Rubio said banning Illegal immigrants from securing federal benefits during the transition is essential or it would bankrupt the system. (He also took the opportunity to say the situation is a great argument for repealing Obamacare because of the cost.)
Rubio then added, "If you allow people to come to this country and immediately access welfare and food stamps, you are creating a magnet for people to come here and do that. Immigrants aren't asking for that; all they are asking for is a chance to work and get right with the law."
In the end, Rubio distilled the Gang of Eight bill to this: "You can't score if you don't shoot, If we don't try, things are only going to get worse."
After the press availability, Rubio went on to a more important meeting upstairs at The Venetian: Gondolier Numero Uno Sheldon Adelson, the pre-eminent GOP donor in the country.