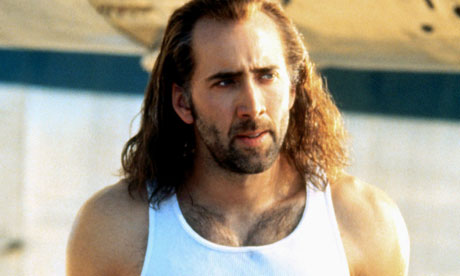 This is the state we are in:
On Tuesday, state lawmakers drooled over and posed for pictures with Nicholas Cage, who wants them to pass a $35 million tax incentive bill for him and other film producers. This comes against a backdrop of an admissions tax, which would add 8 percent to the tickets of those going to see the prospective Cage masterpieces in Nevada.
The Legislature giveth and the Legislature taketh away. This is how they do tax policy – a hodgepodge of giveaways and takeaways with no underlying rationale or overarching approach. This is tax policy in Nevada.
This is the state we are in.
I like Nick Cage as much as the next guy, despite his number of horrific script choices that almost make me forget his transcendent work in "Adaptation." But he is not the point, nor are the many other lesser-known figures who come before lawmakers every year, asking them to take money away from services to beef up their bottom lines.
James Flavy Brown can be shipped out of Las Vegas, leaving with barely his wits about him, some meds and peanut butter crackers. But the star of "Leaving Las Vegas" can be treated like royalty, with the mayor of Las Vegas as his sidekick, and an offer pending of enough taxpayer money to buy a peanut butter cracker factory.
These are the Legislature's priorities – cut mental health funding, ignore English Language Learner money but give tax breaks to those who need them least. Brown gets a bus ticket to anywhere while Cage gets a national treasure trove worth of goodies and Apple gets a 90 percent tax break negotiated by the governor. That is tax policy in Nevada.
This is the state we are in.
I wonder if anyone stops to think: We may get Cage ghost-riding on the Strip, with his production company soaring and a Vegas backdrop for movies. But what does it say if that fake scene is juxtaposed a few miles off-camera in either direction with real tableaus of packed emergency rooms, overcrowded classrooms and jammed thoroughfares.
If this is part of a master plan, I'd like to see the drawing because it seems like a blueprint for disaster to me. What exactly is the policy articulated by this approach that allows $80 million to be cut from mental health services in five years but in one bill lawmakers are willing to give half of that amount to prospective Nevada-based filmmakers?
Lest you think my heart's bleeding cuts off circulation to my brain, I get the job-creating argument, the economic diversification argument, the image-changing argument. But why is it a good idea for government to give incentives to anyone – movie producers, renewable energy companies – if officials don't provide incentives for people to really want to live here by supporting the quality of life, a culture that values higher and lower education, a political class that leads rather than follows?
This is the state we are in.
Every session I attend in Carson City I have heard talk about broadening the tax base. Every one. And it has barely occurred – when people boast that a payroll tax substituted as compromise for the gross receipts tax 10 years ago is a broad-based tax, I wonder if they really care about bringing in new payers.
Instead, lawmakers consistently narrow the tax base by creating exemptions or incentives for businesses to avoid paying them. This is not about taxing the wealthy or the successful; it's about fairness. And giving Nick Cage and his friends $35 million while teachers struggle to teach in large classes with significant numbers of kids who can barely speak English is not fair.
This is not a liberal or conservative plaint, either. Folks such as Senate Finance Chairwoman Debbie Smith are right when they say we need to beef up funding for education and social services. And groups such as the Nevada Policy Research Institute are right when they say government should not be in the business of picking winners and losers.
But partisanship rules and policies fail. And we are faced again – still – with a Rush to Close that will feature either no action on these issues or a Frankensteinian tax plan that should scare everyone.
This is the state we are in.
It doesn't have to be this way. There are smart people in the capital who want to broaden the tax base, diversify the economy and take care of the less fortunate. Most, alas, will only commit to one or two of the three.
So we are left with an admissions tax that will add payers to the mix but is hardly a solution and has imperfections that will soon become apparent. (How to tax moviegoers while giving Cage a tax break?) We have a mining tax plan that would raise a lot of money ($600 million), but has enormous legal and political hurdles to surmount and does nothing to broaden the overall structure. And we have only memories of the lofty talk of policy discussions that Democratic leaders promised on the eve of the session, which is now only 27 days from its expiration date.
We stand poised to give Nick Cage his tax break, to ignore the underlying causes of James Flavy Brown's expulsion from the state and to shake our heads sadly, once again, about what might have been.
This is the state we are in.
(Cage pic via The Guardian.)