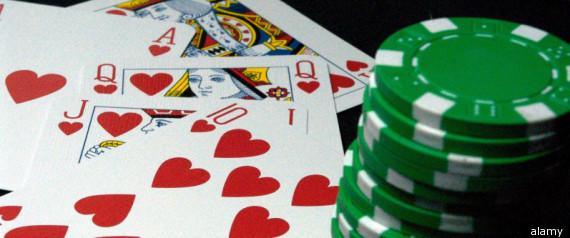 Two months ago, former Rep. Mary Bono announced she would be heading up the Coalition for Consumer and Online Protection, the outfit erected to fight Sheldon Adelson's proposed poker ban.
"I am proud to be a part of the Coalition for Consumer and Online Protection to make sure that people know the risks behind implementing such a ban," declared Bono, a former GOP congresswoman from California who is now a DC consultant. In a Roll Call op-ed, Bono argued for protecting children and for states rights. "The effort to ban Internet gaming is misguided..." she wrote.
Is it now?
Turns out that just a month earlier, Bono approached Adelson lieutenants to try to help fight the American Gaming Association-sponsored effort to block the Las Vegas Sands chairman. In emails I have obtained, Bono clearly was angling for a contract with the folks she now says are so misguided.
On Jan. 6. Bono wrote to Sands spokesman Ron Reese, attaching an article about the AGA gearing up to fight Adelson:
Hi Ron,
Happy New Year! 
Please let me know if we can look at working with you soon on this issue. 
In subsequent emails, Reese linked Bono with Andy Abboud, Adelson's right-hand man, arranging for a meeting in Washington that never occurred. Adelson eventually hired another trio of ex-politicians: Former New York Gov. George Pataki, ex-Denver Mayor Wellington Webb and erstwhile Arkansas Sen. Blanche Lincoln.
And Bono? She signed on with Adelson's enemies, suddenly realizing how, yes, misguided, they were. I wonder how that occurred.
"It was clear in our dialogue with Mary Bono and her team that they were going to go to the highest and fastest bidder," Abboud said. "She was selling her access as a former member."
But Bono said she looked at both sides and realized (probably in an expensive epiphany) who was right.
"As a member of Congress who has been heavily involved in online gaming issues for many years, I have worked with people from all aspects of the industry, including Las Vegas Sands," Bono said in a statement provided by the anti-Adelson coalition. "But they are wrong on this. I made a decision to Chair the Coalition for Consumer and Online Protection because I believe that an online gaming ban is bad public policy."
Indeed, just last month, Bono boasted of her experience on the issue in Congress and how she realized "if we ban gaming online we are going to be setting up all sorts of black markets. In the end, consumers would be less safe."
Strange, if she felt that way, that she would approach Team Adelson in January about "working" with them on the issue.
Coalition spokeswoman Kristen Hawn defended Bono, saying: "She's known Ron and those guys for years (which isn't a surprise given her work on these issues), and she was up front about looking closely at both sides of the issue before deciding how to proceed. After looking at both sides, she chose to represent C4COP because she believes the coalition was on the right side of the issue."
Yes, I'm sure that's what happened.
(Image from HuffPo)