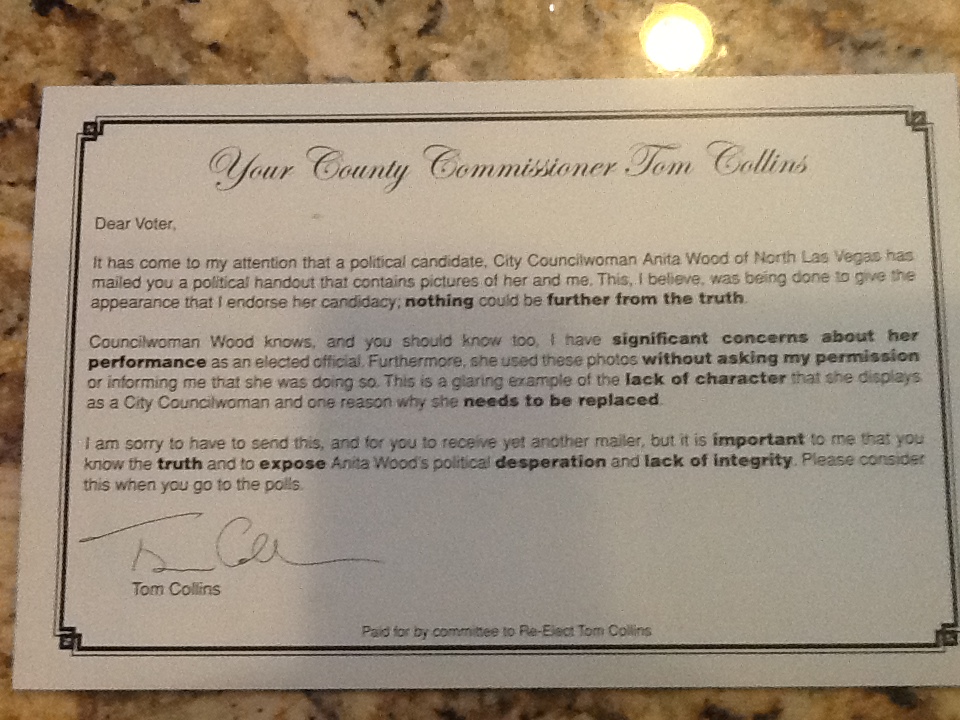 Nugget No. 1 -- So Clark County Commissioner Tom Collins' effort to take over his turf in North Las Vegas by promoting his community liaison's candidacy took a bizarre turn as he put out a piece -- see it at right -- paid for by his campaign to make sure everyone knows he has not endorsed incumbent Anita Wood.
Love the boldface words almost as much as the vitriol in the mail piece designed to help Janice Ridondo. I guess Collins really wants a voice on that city's council.
Nugget No. 2 -- My guess is none of the police union folks in North Las Vegas know anything about ex-state Sen. John Lee's record on police matters. But they know one thing: He's not Mayor Shari Buck, who antagonized the city's labor folks during the budget nightmare. And now she is paying the price -- from the Lee campaign Monday:
John Lee, candidate for North Las Vegas Mayor, has been officially endorsed by both the North Las Vegas Police Officers Association and the North Las Vegas Police Supervisors Associations. No candidate for North Las Vegas Mayor has ever been successful without the support of these two law enforcement organizations.
"We completely support John Lee because John is someone that can repair the relationships with businesses, employees and citizens to make North Las Vegas a great city." said Leonard Cardinale, President of the NLVPSA. "He shares our vision for safe streets and safe families. We are committed to John's victory in the Mayor's race and a brighter future for our town."
John Lee is God. Or Shari Buck is the devil. Take your pick.